FAIRY FLOSS MACHINE HIRE
There's something about fairy floss that reminds us of a trip to the fairground, or a carnival. Fairy floss is always associated with a treat, or a special occasion – for this reason, a Fairy floss machine is a very unique feature for any event.
Mini Express Hire regularly receive Fairy floss hire requests and we're always happy to oblige. Our Fairy floss machine hire is available throughout Melbourne for any type of function. The machine can be used throughout the entire event, who'll keep the Fairy floss spinning is your only question and ensure there're plenty of floss sticks so guests can all sample some.
When considering Fairy floss machine hire, consider this unique treat as a great addition to your popcorn machine hire. The combination of a large popcorn machine and fairy floss machine will always leave guests impressed. Both are interactively fun and offer a great alternative to cake or standard sweets.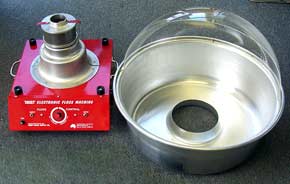 If you want to discuss fairy floss hire and popcorn popper hire, contact us now.
Terms:
$150 per hire
hire includes
equipment tested and tagged
50 serves ,sticks and flavoured sugar incl.
Additional 50 serves at $15
Proof of identity.
Victorian Drivers Licence or similar photo I.D
Price is for pickup only
Hire is for 24 hrs
Please call or email for special pricing
For more information please contact us either via email
You may also call us at
0412 535 950
We look forward to serving you.